Hi. I'm Neil Gale.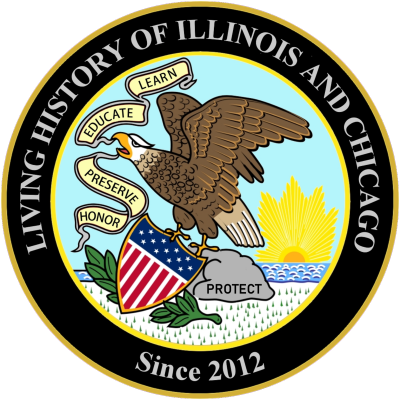 As an Illinois historian and author I enjoy presenting stories and photographs that make Illinois' history come alive. In my opinion, the next evolution of a modern day historian is to interact with history by allowing the reader to add to the richness of the articles topic with additional facts, photographs, and personal and professional experiences.

This is where I see social media, such as Facebook, excel. The benefit of 'crowd sourcing' it allows users to add to the overall presentation, enriching the learning experience for everybody.

In October of 2012, I started a Facebook group called "Living History of Illinois and Chicago." People throughout Illinois and surrounding states have joined the group to participate in this social educational venue. What makes my group one of the most interesting, educational, and entertaining on Facebook are the common sense group policies, keeping the group on topic and free of 'bad actors'.

The group hosts Junior and Senior High School (6th-12th grades) history and social studies classes with their teachers and educators, who use the subject matter for lesson plans, and in preparation for Illinois' History Day and Chicago's Metro History Fair projects.

Living History of Illinois and Chicago® Facebook Group
The group is public, so anybody on Facebook can read our posts. Only members are allowed to post and make comments. I have instituted a stringent set of posting and commenting policies [PG-13] which are moderated and censored to maintain a safe place for everybody to learn. Our large membership boasts high quality, robust researched posts with lots of pictures and member interactions.

From my first published article on November 6, 2016,
over 3,419,000 Illinois history enthusiasts have visited the Digital Research Library of Illinois History Journal™

Digital Research Library of Illinois History Journal™
"Saving Illinois History, One Story at a Time."
Because of Facebook's restrictions on each groups number of posted images stored (approx. 5000 per group) the oldest ones are automatically deleted when new posts are made, I found it necessary to find a way of saving Illinois history. I began a blog and titled it the "Digital Research Library of Illinois History Journal."

The Journal presents Illinois history in a friendlier format than Facebook allows. It includes more functionality, such as search functions that works properly, images with captions, and videos that are embedded and play within the article. Being membership free, anybody online can add their comments to any of the over 1,150 articles I've presented in the Journal thus far.

Digital Research Library of Illinois History®
The Digital Research Library of Illinois History began as a resource for students, educators for 19th and 20th century written book in PDF searchable format. The Digital Research Library of Illinois History is a sanctioned resource for Illinois History Day and Chicago Metro History Fair.

Today, the Library gets thousands of visitors a month searching for Illinois and Chicago topics. Our special collections department includes over 140 defunct amusement parks of Illinois, lost towns of Illinois, and Chicago's forgotten neighborhoods. Have a seat in one of our comfortable chairs, you'll be here for a while, as I estimate there is well over a years worth of reading.
The 1893 World's Columbian Exposition Reading Room™
The largest collection of 1893 World's Columbian Exposition antique searchable PDF books, documents and research papers online. Included are details of special days and special attractions at the Fair, and, not to be missed, 13 amazingly detailed and rendered, first person view [puts YOU at the fair] movie tours of the World's Columbian Exposition.
Abraham Lincoln Forum™ Facebook Group
On July 28, 2020, I was removed and blocked from an Abraham Lincoln Facebook group because I provided proof that the post a member made was not at all truthful. Little did I know the person was the group's Administrator. After sleeping on the issue, I decided to start a new Facebook group the next morning, July 29th, and named it "Abraham Lincoln Forum™." After setting up the new group, I began inviting people to join the next morning. We now have over 1,200 members and a lot of quality posts, articles, and photographs.

Living History of Illinois Gazette™
The FREE daily statewide newspaper. Headline delivered directly to your inbox with the link to the newspaper's full edition. No advertisments.

Illinois History Store®
I've personally created unique designs and recreated vintage logo products and printe them on hundreds of products including dozens of styles of shirts and clothing with lots of colors to choose from. Lots of mug styles, glasses and drinkware, a variety of keychains, home and office accessories and so much more. You'll get lost in all the memories that flood your mind with the places, the tastes, the sounds, etc.. You'll leave with a unique souvenir or two.

The Chicago Postcard Museum
The Chicago Postcard Museum is a privately endowed, independent organization devoted to collecting and presenting Chicago history through postcard imagery and the correspondence sent to others. The Museum displays a small portion of my personal collection of rare, antique, vintage and contemporary Chicago postcards.
MY BOOK: The Midway Plaisance at the 1893 World's Columbian Exposition in Chicago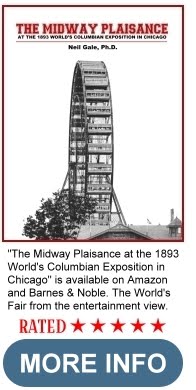 For one brief summer in the 1890s, it was the greatest attraction in Chicago, in all America, in fact, more visited and talked about than the world's fair it adjoined. Here, amidst Muslim mosques and Chinese pagodas, European castles and South Sea island huts, straw-hatted Americans came by the thousands to see Bedouin warriors, Egyptian belly dancers, lions that rode horseback and roller-skating bears. Over it all loomed the first giant Ferris wheel, taller than all but one downtown Chicago skyscraper, but only by a few feet.

I look at the Midway from the entertainment aspect. It's the birth of the American amusement park. This was where Americans first "turned out for an unrestrained good time." Here, the Victorian age of amusements ended and a new modern age began. For the next hundred years, Chicago would help lead this revolution in American popular culture – the revolution that created the modern amusement park – a revolution that began here, on the Midway Plaisance, that summer of 1893.

After the World's Fair closed on November 1, 1893 the Wheel's inventor, George Washington Gale Ferris Jr., found a new site for his observation wheel in 1895. "Ferris Wheel Park" was located on Chicago's North Side, at 1288 North Clark Street.

Read more about Ferris Wheel Park's history in my book "The Midway Plaisance at the 1893 World's Columbian Exposition in Chicago," presented with some rare photographs.

I've researched well over 80 Defunct Illinois Amusement Parks and counting.
Professional Services:
Photography, Graphic Design, Website Design & Development, Internet Marketing, Illinois History Research & Writing.